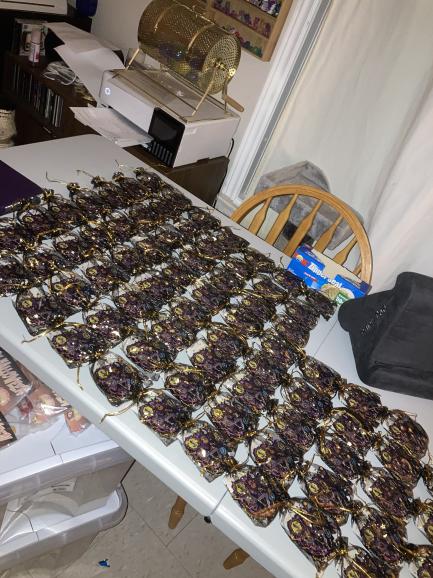 First off, I would like to apologize! Actually, that is the main reason for this update, but I will also be giving information on a couple other things – please bear with me….
We are so appreciative of how, not only, supportive everyone has been for Thea's artistic journey, but also how patient everyone has been with us as we navigate what has been going on!
2023 has not been a kind year for me, and I was fighting while supporting my daughter's dreams. I have to be honest about this! When Thea came to me wanting to do what she has been, I was in 100% because I believe in her! Problem was, I wasn't being realistic with what I was able to do in the long run!
I have been on disability for 10 years. Much like Thea, I have a multitude of health issues. They become amplified being the single mom of two special needs/disabled kids. Then throw in a pandemic that rocked my mental health to it's core.
A few months ago our landlords put me through a lot of mental stress. On the heels of that our washer broke. Then the overstock sale happened while I was still recouping from the stress of the landlord's upheaval and in the midst of dealing with the washer situation so there were many mishaps that made my mental (and thus physical) health worse. Then there was a situation with two packages being lost (thanks USPS) and having to deal with that (starting tickets for them, which came with it's own drama).
Come September my health tanked and I started the weeks long journey of being bed bound and struggling to even get up to do the necessary things (laundry, dishes, cooking, showering, kitty litter, garbage, etc). I dealt with 4 or 5 (lost count) depressive downs each lasting a few days. I pulled through long enough in that time to package June's order with Thea (which was a large one with many items).
We are now into November and I am still spending most of my time in my room. Here is where things regarding TheaArtsz business is affected. Due to Thea's health issues, she struggles with executive dysfunction BAD! Without me to stay on top of her (which makes me feel like a nag, but she says she appreciates it more than not) she has struggled to get things done. When I can muster the energy, or her body and brain lets her, she will get some things done.
Regarding July's pre orders:
Thea has managed to grade and package the Titan pins! YAY! She will be moving onto the Grom ones in the next couple days! She had an anxiety attack during the grading process (it always stresses her worrying about enough "A" grades to fulfil the pre orders) and needed some time in between to recoup. Once that is done we can get them packaged and OUT THE DOOR! We are hoping for the 20th of November the LATEST! The picture above is the packaged Titan Luz pins! They turned out SO AMAZING!
Regarding August's pre orders:
All items are here! We will start the packaging process within the next few weeks! Once we have July out, we can focus on August!
Regarding the calendar sale:
If it were not for us putting a couple thousand out of pocket it would probably not be happening! It upsets me that it was not able to launch November 1st like previously planned, but I just couldn't! A lot goes into sale time. These items are all on hand! There will be no wait to get them out! We just need to package as orders come in, more info soon on how it will all work! We are SO grateful for the amazing work by equally amazing artists to make this possible!!! We hope all 200 available find homes! Sale is scheduled to launch November 12th!
Regarding the upcoming TheaArtsz Bundle presale:
This will be the LAST presale we do publically! It is planned to launch a couple weeks after the calendar sale! There is a special guest artist on board (thank you so much POTIN) and this is something that was to be bigger but we cut some items out to make it more affordable and easier for Thea to complete the art left for it. Thea is so excited for this one! There will only be 50 Bundle sold to make this as non stressful as possible on all of us! However there will be extras ordered to sell separately later in hand (for the "A" grade aspect), but will be priced higher per item.
Regarding the future of sales:
The only presales that will be done in the future will be for items too expensive for us to pay up front, and will only be offered to her Discord group! We will purchase extras to be sold through her store website after.
Regarding website store:
This will be launched in the new year! We have many items to sell, but will only be putting a few up at a time! We do not want to overwhelm anyone, including ourselves! Any overstock items from presales will be available as well!
Regarding Stars Align:
This is still happening, but on delay! Unfortunately Thea, with everything going on, has not been able to start it! She is working on revamping characters and finalizing colour palettes. She is so excited to be able to share this story with everyone, and her wonderful characters! We hope you grow to love them as much as we do!
Regarding Penny Super Mini Comic from June's pre order:
This will still be done with the PDF sent to those who purchased! I help Thea with the story writing, and well, I have not been able to. This is being rectified very soon! This will be the last one done so she can start focusing on the story itself!
Thank you so much for taking the time to read all of this! I know it was a lot, and I know some may struggle with focus while reading longer things (as I myself do).
If there is anything you were curious about that wasn't covered, please email info@theaartsz.ca and I will do my best to answer any other questions!
Until next time…