BACK ON SALE!!
NEXT SHIPMENT TO GO OUT: February 6, 2023

ORDERS TO BE INCLUDED IN THAT SHIPMENT MUST BE PAID BY February 5, 2023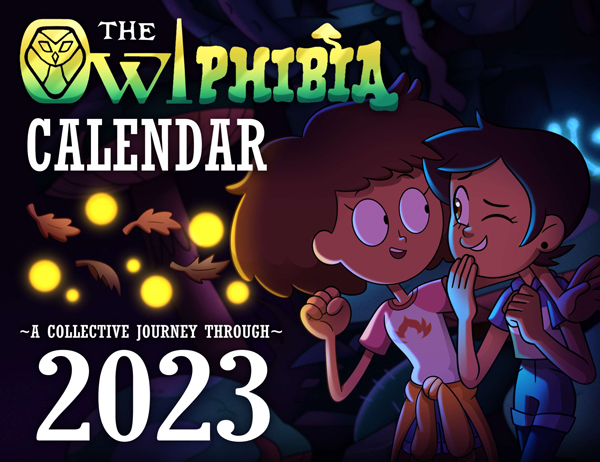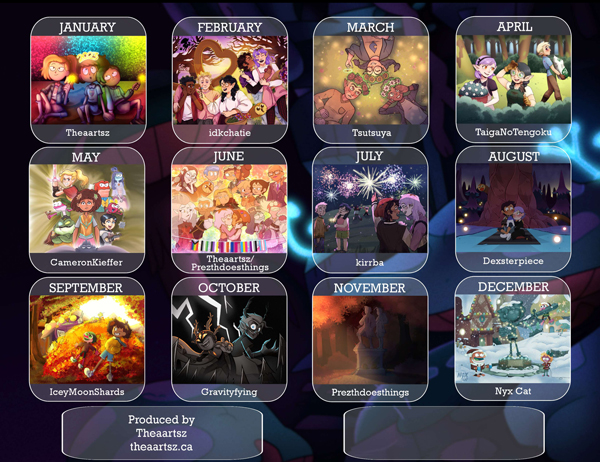 IF YOU MISSED OUR INITIAL SALE NOW
IS YOUR CHANCE TO PURCHASE
THE COLLABORATIVE
2023 CROSSOVER CALENDAR
FROM THE SHOWS
THE OWL HOUSE & AMPHIBIA!
ON SALE NOW
Sale closes when calendars are sold out
HOW TO PURCHASE
CHECK THE SHIPPING PRICES CHART BELOW TO FIND YOUR SHIPPING COST.  FOR WITHIN CANADA OR LOCATIONS NOT LISTED EMAIL "

SALES@THEAARTSZ.CA

" WITH YOUR FULL ADDRESS FOR SHIPPING PRICES.

FILL OUT THE GOOGLE ORDER FORM

WITH YOUR NAME, ADDRESS, SHIPPING METHOD AND YOUR EMAIL ADDRESS TO RECEIVE THE PAYMENT INVOICE:

"A" GRADES SOLD OUT!

ONCE YOUR ORDER IS SUBMITTED YOU WILL RECEIVE A PAYPAL INVOICE REQUESTING PAYMENT WITHIN 24 HOURS. 
Please note calendar orders are only considered complete once payment is remitted, until then they are still available as there are no placeholders with invoice sent out.  Calendars are sold on a first pay first get basis.  

PLEASE BE SURE TO CHECK YOUR SPAM FOLDER IN CASE YOUR INVOICE ENDS UP THERE!
PRICE PER CALENDAR IS
$11.00 FOR "B" GRADE
CANADIAN!!
********************************
FREE STICKERS
Each order will come with the following stickers!
The Owl House sticker is (approx) 3"
The Amphibia Stickers are 1 1/4" each
********************************
THERE ARE  CURRENTLY 27 "B" GRADE CALENDARS
AVAILABLE FOR PURCHASE!  
"B" GRADES HAVE DIFFERING ISSUES SUCH AS HOLE NOT PUNCHED PROPERLY, STAPLES NOT AS STRONG, INDENTATIONS, PRINT COLOUR INCONSISTENCIES, ETC.   THEY ARE MARKED AS "B" GRADES BECAUSE WE WERE NOT 100% SATISFIED WITH THEIR QUALITY TO GO OUT FOR THE FULL PRICING. 
Shipping Prices Chart
International Air

International Tracked

Country
 

$13.18

USA

$14.32

$24.95 9-14 Business Days

United Kingdom (UK), Denmark, Finland, France, Germany, Holland, Hungary, Iceland, Ireland, Italy, Luxembourg, Netherlands, Norway, Spain, Sweden, Switzerland

$16.33

$29.00

Australia, New Zealand

$15.78

$25.91  12-16 Business Days

South Korea, Hong Kong, Malaysia, Taiwan

$16.41

 

India, Indonesia, Philippines 

$17.62

 

Nigeria, South Africa

$14.32

 

Greece, Greenland

$17.21

$32.37

15-18 Business Days

Lithuania, Poland

$14.94

 

Dominican Republic, Jamaica, Mexico 

$16.13

 

Columbia, Peru

$16.13

$31.83

24 Business Days

Brazil

$16.85

$31.37

26 Business Days

China

$13.28

$25.91

11 Business Days

Japan

$13.18

$25.93

6 Business Days

Puerto Rico

$15.78

 

Thailand

$16.80

$34.95

11 Business Days

Turkey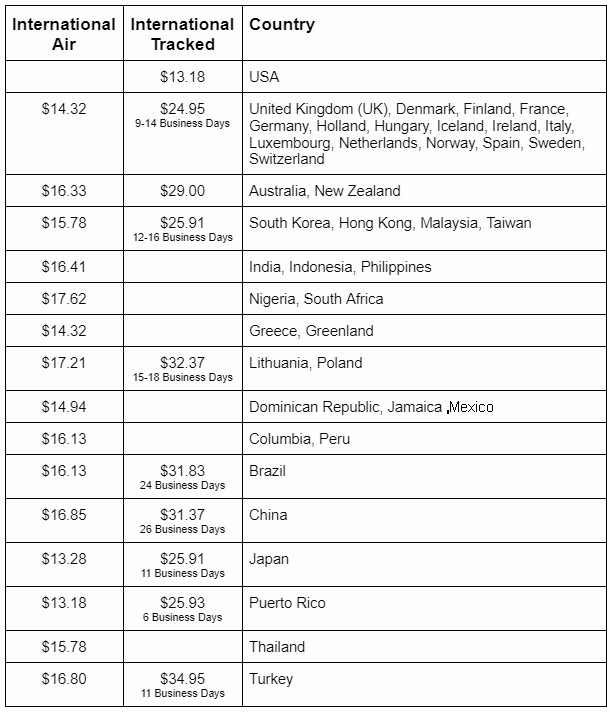 CONTRIBUTING ARTIST BIOS
Learn about the amazing artists who helped make this calendar a reality!
Shared below is their name, pronouns, location, favourite characters from The Owl House and/or Amphibia, Website and/or social media links and a little about themselves.  Hope you enjoy learning more about each of them!
Theaartsz
She/Her 
Canada
Luz, Hooty, Amity, Marcy
Website: Theaartsz.ca
Twitter/TikTok/YouTube: @Theaartsz
"I'm am an 18 year old disabled queer artist hoping to one day make my own Animated series Stars Align come to life!"
Dexsterpiece
He/Him/They/Them
Canada 
Luz (TOH), Maddie (Amphibia) 
IG/Twitter is Dexsterpiece 
"I'm an awkward nerd who loves cartoons. I never know what to write about myself. Hope you enjoy my art!"
TaigaNoTengoku
Ask ( Genderfluid, They/Them by default )
France ( 59 )
I have too many for TOH ( Mostly Luz, Amity, Willow, Gus, Camila and Eda ). As for Amphibia, it Marcy Regina Wu <3
https://linktr.ee/taiganotengoku (all can be found through this link)
"Hi ! My name's ☆Taiga☆ or Tai' for short, I hope you enjoy the calendar as much as I did making my piece !!
I'm a queer french artist who's been drawing for about 12 years now ( as of 2022 ) and draw anything I'm into. I actually started with Pokémons with Pokémon Mystery Dungeon : Explorer of Skies, then learned humanoids with Corpse Party and Splatoon. I am currently absolutely obsessed with The Owl House but these games are also still really dear to my heart to this day. I actually do furry art too ! Ironically my city is full of them but I don't know any, R.I.P.
It's actually my very very very first project like this and I'm absolutely honoured I could've participated. Thanks to everyone else for allowing me to !! It was really fun ( though it was quite difficult at first, impostor syndrome our beloved ) !
Again, hope you enjoy the hard work we've put in it and hope to see you around <3 Thanks for your time and have a nice day !"
Prezthdoesthings
They/Them
United States
TOH: Hunter, King, Amity, Eda  Amphibia: Sasha, Andrius, Yunan, Grime
IG/TikTok: @Prezthdoesthings Twitter: @Prezthdoesstuff
"I'm Prezth aka just a tired artist obsessed with dinosaurs."
Tsutsuya
She/They
Northern Germany
A hard one! TOH: Hunter, Darius, Vee // Amphibia: The Calamity Trio and Yunan!
https://tsutsuyaart.carrd.co/  (all can be found through this link)
"I'm a big cartoon nerd and also a cosplayer! Currently mostly obsessed with The Owl House not only in the art department but cosplay as well! I've been drawing since over 10 years I believe and only recently reached a skill-level I'm finally comfortable with! I hope y'all will enjoy this little project!"
kirrba
they/he/she 
United States 
Luz and Amity from TOH and Marcy from Amphibia!
kirrba on Twitter and kirrbart on Insta 
"I love to draw soft and cool stuff "
CameronKieffer
he/him/his
Kansas/US
King and Luz from TOH; Marcy from Amphibia.
https://cameronkieffer.com/; Twitter: @cameronkieffer; Insta: @cameron.kieffer
"Awkward nerd and proud of it. Probably the oldest person here but still a kid at heart. Very much inspired by the fandom and the incredible art y'all are doing!"
idkchatie
she/her/hers
United States
Luz from TOH and Sprig from Amphibia!
@idkchatie on IG
"I share my passion for things through art! I've been drawing all my life because it brings me joy, and I love to draw art for other things that bring me joy!"
IceyMoonShards
they/them | he/she/x for languages who don't have they
DARCY AND AMITY but Sasha, Anne, Marcy, Luz, the Collector, and Willow are pretty cool as well!
https://iceymoonshards.carrd.co/
"Hi!! I'm Tanky or Lost! I'm a 16 years old Italian artist, animator, director, writer and storyteller! I love Amphibia, Warrior Cats, The Owl House, Creatures of Sonaria, Dragons and Dinosaurs, and all kinds of fantasy or animal related media! I love hosting story driven MAPs (Multi Animator Project), and doing frame by frame animation! I also enjoy drawing my fluffy ocs and playing animal/creature survival games!
Hope you enjoy my work and if you'd like to see more of it feel free to look me up on Twitter, YouTube, Instagram, and tik tok! This project was very fun to participate in and I can't wait to check out everyone's works! Thanks for having me!"